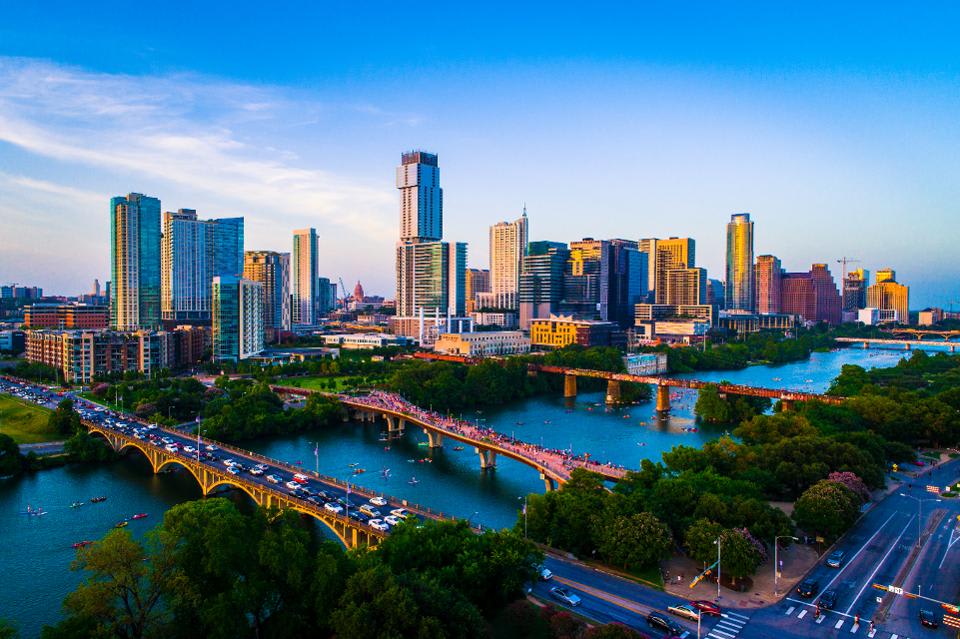 The housing market in Austin, Texas, is quickly rebounding from the effects of the coronavirus.
As mortgage applications, price appreciation and slowly growing new listings indicate that the national real estate industry is finally mending from the coronavirus, some housing markets are charting faster and stronger recoveries than others.
The reasons why some cities are bouncing back quicker boil down to robust local economies, less severe coronavirus-prompted lockdowns and, in some cases, low numbers of COVID-19 infections.
"A lot of markets across the country [suffered]," says Taylor Marr, lead economist at real estate brokerage
Redfin
. "We saw about 50% drop on the sell side and about a 50% drop in homes going under contract. That was pretty true for the most part in most places around Easter.
"The difference has been the road to recovery. Some places have had a sharper rebound. There're also a few markets that weren't hit as hard initially."
Some of the cities where new listings and pending home sales avoided the countrywide downward shift in March and April include Des Moines, Iowa, Spokane, Washington, and Indianapolis, Indiana, says Marr.
"Markets that are more rural [and] didn't lock down," are faring better in terms of housing activity, says Marr. "There were no state shelter-in-place orders in a number of states like Nebraska, Iowa, South Dakota and North Dakota. That definitely played a role in real estate not taking as great of a dive."
The benefit of a healthy job market
A large coronavirus outbreak does not necessarily spell a depressed housing market – at least, not for long.
Seattle, for instance, was the U.S. first viral hot spot in March but its real estate has since rebounded. According to a report by real estate brokerage Compass, the number of homes under contract in the Emerald City bottomed out in early April, having slipped nearly 50% from their pre-Covid levels.
With a median price of $600,000 (a 2.6% month-over-month gain), about 2,700 residences in Seattle changed hands, while roughly 3,500 came online in April, according to Redfin (which is headquartered in the city). As of May 5, the number of listings under contract stood 7% higher than it was before the pandemic, Compass reported.
"In Seattle, the market has almost fully recovered in terms of the number of homes hitting the market," says Marr. "It's performed really well. That could be due to having a tech workforce, which has done really well economically."
The technology sector seems to have propped
Austin's
real estate as well. The Texas city, nicknamed Silicon Hill for its concentration of tech companies, is home to
Dell
 alongside outposts of
Amazon
, Google and
Apple
, among others. Firms here have attracted workers – and, thus, home buyers and renters – from around the country for years.
"Austin has always bucked trends, even in the Great Recession 10 years ago," says Mark Strub, Austin-based broker associate with Compass. "We're just a very resilient city and it has mostly to do with the fact that there's just an abundance of work."
Strub says that Austin's for-sale inventory dropped some 35% in April, creating "a demand frenzy," even if relocations, which typically fuel to local real estate segment, slowed down due to the pandemic.
According to Compass, sale contracts in Austin declined a mere 2% because of the coronavirus. Today, they are nearly 130% above their pre-Covid level.
Austin is also one of the four U.S. cities John Burns Real Estate Consulting (JBREC) has identified as "boom markets" due to their recovery. The others are Tampa, Florida, Salt Lake City, Utah and Phoenix, Arizona.
"We picked these four primarily due to their employment makeup," says Lesley Deutch, JBREC principal. "Every market is being affected by [the coronavirus-induced slowdown in] retail and hospitality to some extent. These markets that we picked don't have a large share of jobs in leisure and hospitality."
As a whole, Texas has a few local housing markets that have bounced back in terms of both supply and demand. "Texas overall seems to have come back to pre-Covid levels, both on the buy side and the listing side," says Divya Aathresh, general manager of Better Real Estate, an affiliate of technology-focused consumer loan originator Better.com. "The strongest performing cities have been Houston and Austin."
Houston's housing segment appears to have remained strong despite the double whammy of a health crisis and a disarrayed oil industry, which briefly experienced negative prices for the first time ever in April.
"Houston has done quite well and is more resilient than I think we originally gave it credit for," says Deutch, adding that she nonetheless excluded it from JBREC's categorization of rebounding markets because of initial concerns about the effects of the energy sector.
Deutch says, "It's been a great market. Builders have been really pleased with their sales and they're seeing a lot of demand there."
According to Compass, by early May, the number of listings under contract in Houston have grown nearly 80% since contracting 27% a month earlier. As of May 5, contracts were also 52% higher than they were pre-COVID.
The most remarkable Covid-19 rebound tale, though, might belong to the nation's capital. According to Compass, Washington, D.C. metro area has experienced "the most impressive" housing market revival. There, home sale contracts have climbed 150% after hitting a Covid-19 trough that stood 49% lower than pre-pandemic levels. What is even more noteworthy is that contracts in D.C. have now doubled compared to their pre-coronavirus tally.
"DC has historically been insulated through a variety of factors," says Dana Rice, senior vice president of Compass in Washington, D.C. "Not only is the job base federal, but we have a diplomatic corps, the International Monetary Fund, the World Bank, the National Institutes of Health. We have many, many solid job industries that aren't necessarily impacted by what's been happening in a severe and immediate way."